Pinehurst Medical Clinic Recognized for Workplace Health Achievement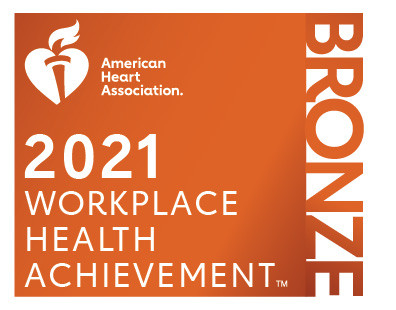 The results of the American Heart Association 2021 Workplace Health Achievement Index were announced and Pinehurst Medical Clinic achieved national Bronze Level recognition for taking significant steps to build a culture of health in the workplace. The American Heart Association has defined best practices for employers to use to build a culture of health and well-being for their employees in the workplace. The American Heart Association's Workplace Health Achievement Index measures the extent to which the company has implemented those workplace health best practices. Organizations recognized at the Bronze level have achieved an Index score of 75 – 104 out of a maximum 151 points.

The American Heart Association, a global force for longer, healthier lives, created the Index with its CEO Roundtable, a leadership collaborative of more than 45 members from some of America's largest companies who are committed to applying evidence-based approaches to improve their employees' overall health. The Index is a web-based scorecard that looks at organizational best practices and aggregates employee health data to evaluate the overall quality and comprehensiveness of workplace health programs. Studies show that worksites with a culture of health with comprehensive, evidence-based policies and programs, and senior leadership support are more likely to have engaged employees and a healthier, more productive workforce.
"Pinehurst Medical Clinic is honored to be recognized by the American Heart Association for workplace health achievement. We are committed to our employees' health and wellness and look forward to further developing and delivering programs that enable them to live their best lives," stated Matt Bernosky, Pinehurst Medical Clinic Human Resource Director.
A unique feature of the Index is that it calculates an average heart health score for employees of participating companies that securely submit aggregate health data through Life's Simple 7®, the American Heart Association's definition of ideal cardiovascular health based on seven risk factors. Life's Simple 7® includes smoking status, physical activity, weight, diet, blood glucose, cholesterol, and blood pressure. Companies receive benchmarking reports, which allow them to identify potential areas of improvement so that they can advance their annual performance and recognition.