August 14th, 2023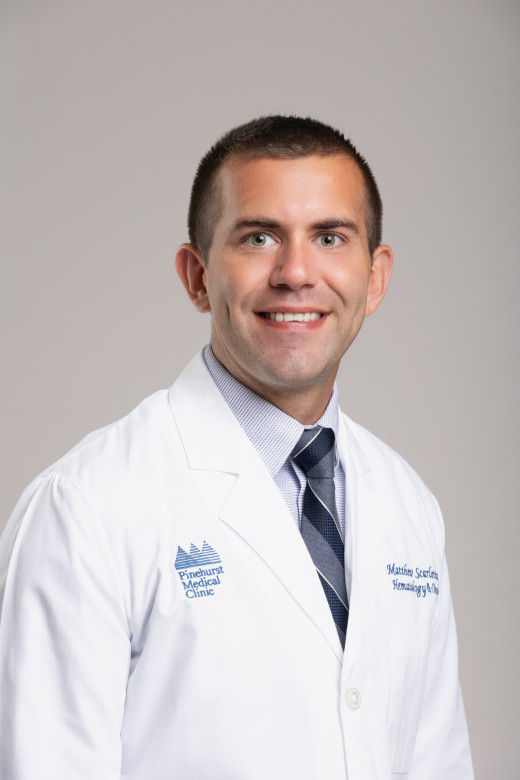 Pinehurst Medical Clinic (PMC) and FirstHealth of the Carolinas are excited to welcome medical oncologist and hematologist Matthew Scarlotta, M.D. Dr. Scarlotta joins PMC's medical oncology and hematology team and an expanding cancer care team at FirstHealth, which includes additional oncologists, physician assistants, nurse practitioners, oncology nurse navigators and clinical trials professionals.
Dr. Scarlotta joins PMC's board-certified physicians Laura Hanson, M.D.; Charles Kuzma, M.D.; Robert Pohlmeyer, M.D.; Saritha Ravella, M.D.; Thomas Richard, M.D. and advanced practice providers Susan Bazinet, R.N., FNP-C, MSN, OCN; Bobbi Clark, AGNP-C; Jaime Delivuk, FNP; Alicia Libby, P.A. and Sarah Pearce, DNP, as well as, FirstHealth's board-certified physician Jeffrey Klotz, M.D. all serving patients at the new, state-of-the-art FirstHealth Cancer Center at 135 Page Road North in Pinehurst.
Scarlotta received his Bachelor of Science in medical microbiology and immunology from the University of Wisconsin-Madison. He then earned his medical degree from the University of Pittsburgh School of Medicine and furthered his education with a fellowship specializing in hematology and medical oncology from Johns Hopkins University School of Medicine in Baltimore, MD.
Scarlotta said he declared a passion for medical oncology because of the opportunity to know patients on a deeper level rather than solely focusing on one aspect of their care.
"The most rewarding aspect of my work is getting to know my patients, their families and their values so I can individualize their treatment to help them reach their goals," said Scarlotta. "I also ensure that we take time to address other physical and emotional aspects of care that undoubtedly arise during a patient's cancer treatment."
Additionally, Scarlotta looks forward to joining an organization with a strong sense of community to further his commitment to providing innovative therapies and high-quality patient care in a setting that is convenient for patients and their families.
As a new resident of North Carolina, Scarlotta looks forward to relocating to the area with his wife, Leah and their miniature dachshund, Frankie. Outside of caring for patients, he enjoys spending time outdoors, typically golfing or fishing, and spending time with family and friends.
PMC and FirstHealth of the Carolinas work collaboratively through provider service agreements in several specialties, including medical oncology and hematology. This allows for a unique opportunity for providers to access resources from both organizations, allowing them to create a best-in-class, comprehensive patient experience for the communities they serve.
To learn more about PMC's medical oncology and hematology providers, please visit pinehurstmedical.com.
To learn more about the expanded Cancer Care team at FirstHealth, please visit www.firsthealth.org/cancer.
---
Back