October 13th, 2023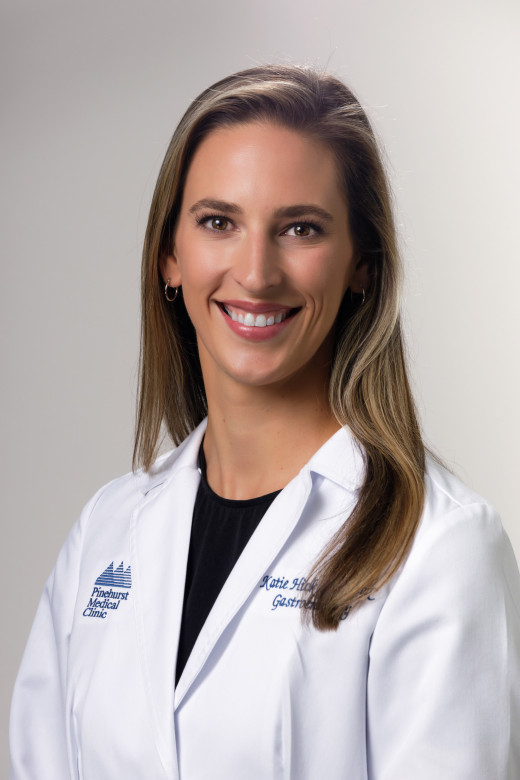 Pinehurst Medical Clinic (PMC) is excited to welcome Katie Hickey, FNP, to its gastroenterology team in Pinehurst at PMC – Heather Glen. Hickey is joining the established team of board-certified gastroenterology physicians Dr. Eric Frizzell, Dr. Wayne Lucas, Dr. David Martin, Dr. Thomas Swantkowski, Dr. Ravikant Varanasi, Dr. Diane Williams and Dr. Farra Wilson, and advanced practice providers Casey Burnette, NP, Lindsey Huckbody, PA-C, Rebecca Johnston, PA-C, Laura Kaufman, PA-C, Laura Love, FNP, Amanda McGarry, PA-C, Keith Robinson, PA, and Molly Webb, FNP-C.
Hickey earned her Master of Science in Nursing from the University of Cincinnati, a Bachelor of Science in Nursing from Duke University and a Bachelor of Science in Exercise Science from Appalachian State University.
With a passion for building strong, meaningful patient-provider relationships, Hickey finds comfort and a sense of purpose when supporting her patients and their families in times of need. "I pursued a career in healthcare due to my passion for cultivating connections with patients through acts of service," expressed Hickey. "I have been privileged to share both the triumphs and challenges experienced by patients and their loved ones."
Hickey brings over eight years of clinical experience from the intensive care unit and procedural care. During her time at the gastroenterology lab at Moore Regional Hospital, Hickey has worked alongside PMC's gastroenterology providers. She looks forward to expanding her foundational knowledge in gastroenterology and further providing specialty services to the community.
A Pinehurst resident since 2015, Hickey enjoys playing fetch with her Malinois Mix, Tucker, riding her Peloton, frequenting Lake Tillery and golf carting around the village with her husband.
To learn more about Katie Hickey, FNP, and the care team at PMC Gastroenterology & Endoscopy – Pinehurst, visit pinehurstmedical.com.
---
Back