August 16th, 2023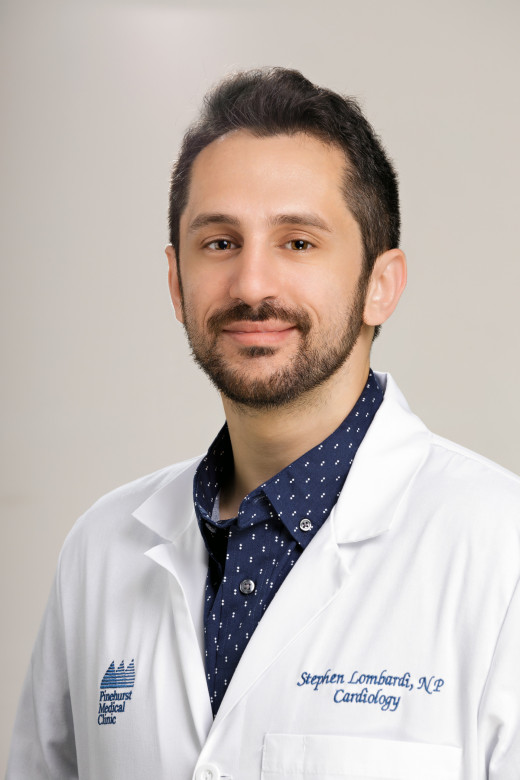 FirstHealth Cardiology – Pinehurst Medical Clinic (PMC) is excited to announce Stephen Lombardi, DNP, is the newest addition to its established team located at FirstHealth Cardiology - PMC - East in Pinehurst.
Lombardi joins the 11 board-certified PMC cardiology physicians and advanced practice providers that include Dr. E. Scott Anderson, Dr. Tiffany Bonnecaze, Dr. Ker Boyce, Dr. David Cowherd, Dr. Keith Davis, Dr. Joseph Hakas, Jr., Dr. Steven Kent, Dr. Joan Maradey, Dr. Michael Millard, Dr. Patrick Simpson, Dr. Brandon Williams, Heather Blackburn, DNP, Stephanie Garner, FNP, Stacey Hoiland, ANP, Logan Lewis, FNP, and Laura Kauffman, NP.
Lombardi received his Doctor of Nursing Practice from the University of North Carolina Greensboro and his Bachelor of Science in Nursing from Southern Connecticut State University in New Haven, Conn.
Prior to his career in nursing, Lombardi earned his Bachelor's Degree in Kinesiology and worked as a personal trainer. During this time, he noticed several clients with diseases and conditions that were impacting their overall health and well-being. After witnessing this and having a passion for preventative care, Lombardi switched careers to further his passion for helping people.
Familiar with the FirstHealth Cardiology – PMC team, Lombardi most recently worked in the Cardiac Specialty Unit at Moore Regional Hospital. "Previously working as a registered nurse in the Reid Heart Center, I had the opportunity to work alongside PMC providers in the hospital setting," said Lombardi. "Witnessing the PMC providers at the bedside and interacting with patients was a true reflection of their commitment to providing quality and compassionate care for the patients in our community."
When not caring for patients, Lombardi enjoys spending time with his wife and their two kids, being outdoors, watching sports and exercising.
Stephen Lombardi, DNP, is now accepting new patients at FirstHealth Cardiology - PMC – East, located at 205 Page Road in Pinehurst. To schedule an appointment, please call (910) 295-9211.
---
Back