June 27th, 2022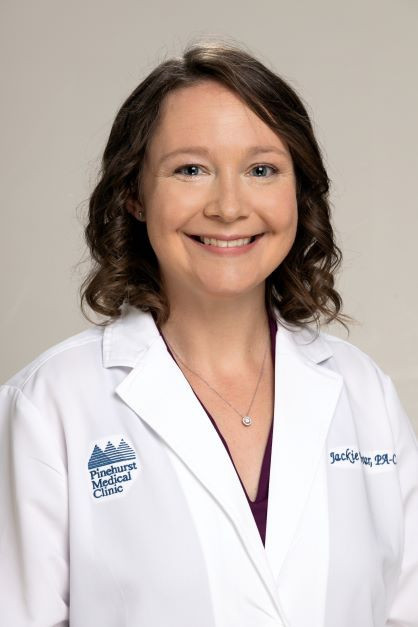 Pinehurst Medical Clinic (PMC) is excited to announce the addition of Jackie Posvar, PA-C, to the walk-in clinic department in PMC – Morganton Park, located at 200 Pavilion Way, Southern Pines. Posvar joins the team dedicated to providing convenient, accessible care when patients need it at a moment's notice.
Posvar brings over 10 years of experience in the medical field to PMC's walk-in clinic with a Master of Science with a focus in physician assistant studies from Ohio Dominican University.
With a career not initially in healthcare, Posvar decided to make the switch because of her passion for making meaningful connections with others. She strives to provide high-quality, compassionate care to patients by listening to their concerns and taking the time to educate them on the solutions to their medical needs.
The variety of services PMC provides to its patients was one of the reasons Posvar chose to join the organization. "I am excited to work in a medical home model where care is patient-focused," said Posvar."We have the ability to provide primary care, specialty care and urgent care to our patients, coordinating care at the highest level."
Originally from New Jersey, Posvar has lived in Massachusetts, New York, Pennsylvania, and Ohio. However, the lack of snow is what she enjoys most about living in Southern Pines. When not caring for patients, she enjoys running after her twin sons, reading books and spending time with friends.
PMC's Walk-In Clinic at PMC – Morganton Park is open Monday – Friday, 9 a.m. to 5 p.m., and Saturday and Sunday, 8 a.m. – 11:30 a.m. To learn more, please visit pinehurstmedical.com.
---
Back