February 20th, 2023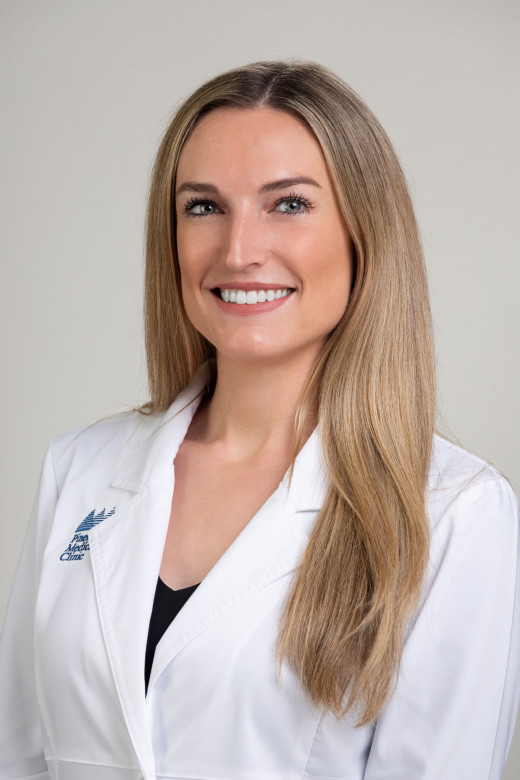 Alex Chenault, PA-C, is the newest addition to the primary care team at PMC – Heather Glen in Pinehurst. Pinehurst Medical Clinic (PMC) is excited to welcome Chenault to the established team of eight physicians and nine advanced practice providers at this location.
Chenault earned her bachelor's degree of science in dietetics from Point Loma Nazarene University in San Diego and her master's degree in physician assistant studies from Southern California University of Health Sciences in Whittier, Calif.
Beginning her career as a clinical dietitian, Chenault enjoyed connecting with patients and collaborating with other members of their healthcare team. Wanting to expand her impact beyond nutrition, she pursued her degree in physician assistant studies to have a larger role in her patients' healthcare journey.
With almost 10 years of clinical experience, Chenault has developed a healthcare philosophy that encourages provider-patient relationships to promote a collaborative approach to satisfy her patients' healthcare needs. "When developing a treatment plan, I inform the patient of all available options and encourage them to play an active role in the decision-making process," expressed Chenault. "I also place emphasis on preventative care by advocating for small and achievable lifestyle modifications."
Chenault is joining PMC's primary care department with 23 physicians and 27 advanced practice providers who are board-certified in internal or family medicine. PMC primary care providers are experts in promoting healthy living, disease prevention, health maintenance, treatment of acute and chronic illnesses and more. As part of the PMC organization, primary care providers have access to several specialty care and wellness resources to provide the best possible care to improve their patients' overall health and well-being.
A San Diego native, Chenault recently moved to the Sandhills as her husband is active military. When not caring for patients, she enjoys spending time outside, caring for their two cats, cooking, traveling, and trying new restaurants. Newer to the area, Chenault is looking forward to meeting new people and engaging in community events.
---
Back