June 5th, 2023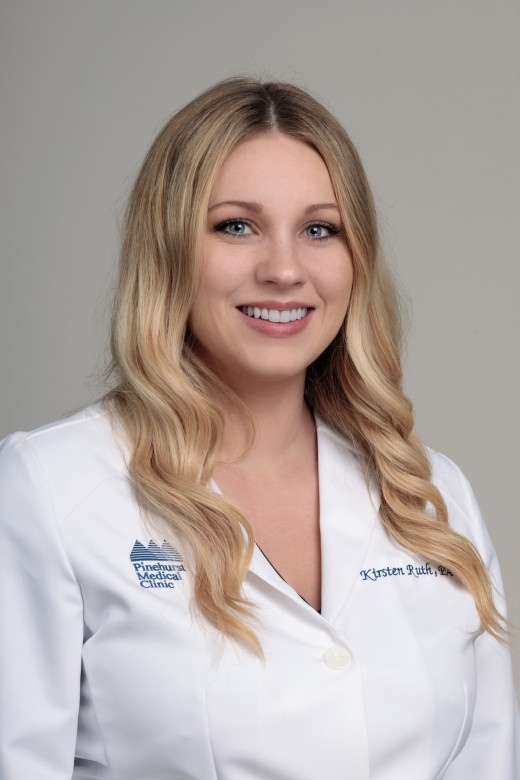 Pinehurst Medical Clinic Primary Care – Carthage Street is excited to welcome Kirsten Ruth, PA. Ruth joins the established team located at 555 Carthage Street in Sanford consisting of board-certified primary care physicians Dr. Glenna Grider, Dr. Vaishali Nadkarni, Dr. David Nave, Dr. Chase Nielsen, and Dr. Jennifer Normann, and advanced practice providers Hannah Rivard, FNP and Alex Mullins, PA-C.
Ruth received her Master's in Physician Assistant Studies from High Point University in High Point, N.C., and her Bachelor's of Science from Longwood University in Farmville, Va.
From a young age, Ruth knew she wanted to be a healthcare provider after watching her stepfather, who is a physician, provide care to his patients. She experienced first-hand the difference a compassionate provider can make and knew she too wanted to make patients feel safe and cared for as well as help them achieve their healthcare goals.
With over five years of experience in the healthcare setting, Ruth is passionate about providing patient-centered care through education and building trusting provider-patient relationships. "I believe it is my job as a provider to share my knowledge with patients and assist them in making the best-informed decision based on evidence-based medicine," explained Ruth. "I find that educating people on their medical options and letting them choose gives people a say in their care, which is how patients can be in control of their health. My hope is this will make patients more motivated to follow up and feel comfortable discussing their health concerns with me."
Ruth grew up in Hampton, Va., where she met her high school sweetheart. After her husband joined the military, they moved to Belgium and discovered a love for travel. Ruth and her husband now live in Sanford with their young son and two Bichon Frises puppies. As a resident of Sanford Ruth knew she wanted to work in the community she calls home and considers it a privilege to do so.
Kirsten Ruth, PA, is accepting new patients. To schedule an appointment, please call (919) 774.6518.
---
Back