July 1st, 2022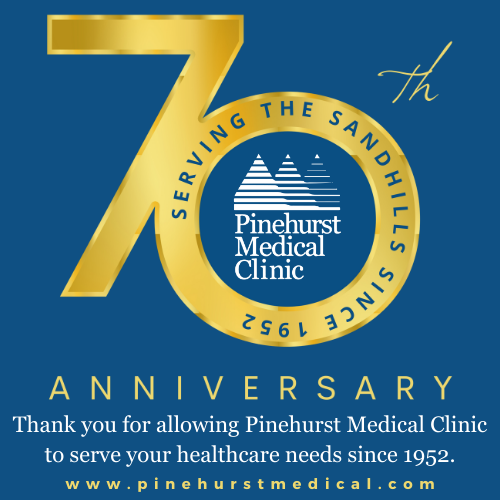 Dear Community,
This month marks 70 years that Pinehurst Medical Clinic has served our community. We are incredibly honored to have an opportunity to lead an amazing organization bound by a mission to serve, as well as work alongside a team dedicated to delivering high-quality healthcare and compassionate service to those who entrust us with their care.
As a health care leader, Pinehurst Medical Clinic continues to fulfill the mission set forth by its founder, Dr. Joseph Hiatt, "to give the people of Moore County and surrounding communities the best medical treatment available, anywhere." Since Dr. Hiatt's vision in 1952, the healthcare organization has grown to over 120 providers and expanded to 14 care locations with clinics in Aberdeen, Pinehurst, Pittsboro, Sanford, Southern Pines, Fayetteville, and West End.
At Pinehurst Medical Clinic, we strive to create meaningful, positive experiences for our patients while providing best-in-class care.
In response to the needs of our community, we continue to expand our services and facilities through the continued recruitment of board-certified care providers and highly qualified patient-centered team members.
We recently opened the doors to our new state-of-the-art facility in Southern Pines that provides primary care and specialty care, including dermatology and endocrinology. The new location also offers the following services, imaging, laboratory, wellness, and a pharmacy, including a drive-thru option.
Over the next few months, we will continue projects to update select existing facilities to maintain comfortable environments for our patients and team members, as well as expand others in Moore and Lee counties.
In addition to expanding and enhancing our facilities, Pinehurst Medical Clinic will soon welcome several new board-certified providers to our care teams in cardiology, dermatology, electrophysiology, primary care, and hematology/oncology.
The Pinehurst Medical Clinic team maintains a focus on meeting our patients where they are in their care journey and our nationally ranked care aims to go beyond the traditional delivery of medicine. PMC's comprehensive offerings include proactive wellness care, chronic disease management, same-day sick visits, as well as subspecialty medical and procedural care.
We have the good fortune to live and work in a community filled with extraordinary people exhibiting a true passion for community. We look towards the future of our growing community with exciting opportunities on the horizon, the pursuit of continuous quality improvement, and our team's commitment to providing the best care possible to our patients.
On behalf of Pinehurst Medical Clinic, we are deeply grateful for our patients' continued support and for entrusting us to serve your healthcare needs.
Brandon Enfinger, Chief Executive Officer
Dr. Ker Boyce, President
---
Back