August 31st, 2023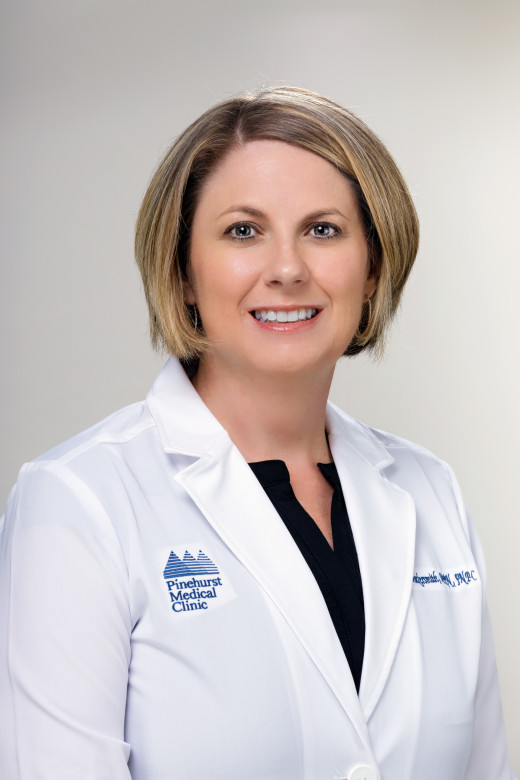 Pinehurst Medical Clinic (PMC) is excited to continue expanding its primary care team with the addition of Kristin Hockersmith, MSN, APRN, FNP-C, at PMC – Morganton Park in Southern Pines. Hockersmith joins the established team consisting of three board-certified primary care physicians Dr. Marcus Lowry, Dr. Bobby Maynor and Dr. Michol Stanzione, six advanced practice providers Julie Catron, PA-C, Lauren Chriscoe, ANP, Sherry Hall, FNP-C and Karen Patterson, DNP.
Hockersmith received her Master of Science in Nursing from Chamberlain University, in Downers Grove, Ill., her Bachelor of Science in Nursing from Winston-Salem State University, Winston-Salem, N.C., and her Associate of Science in Nursing from Sandhills Community College in Pinehurst, N.C. Additionally, Hockermsith earned a Bachelor of Arts in Communication from the University of North Carolina-Chapel Hill in Chapel Hill, N.C. and an Associate of Arts from Sandhills Community College in Pinehurst, N.C.
As a Pinehurst native, Hockersmith is excited to bring her experience and knowledge to care for her hometown community.
With over 10 year of clinical experience, Hockersmith has been able to take her passion for relationship building and helping others and express it in her patient care. "I treat everyone as if they were a close friend or family member," stated Hockersmith. "My goal is to provide the best care possible by educating patients and their family members on individualized plans to improve quality of life."
Hockersmith is joining PMC's Primary Care department with providers who are experts in promoting healthy living, disease prevention, health maintenance, treatment of acute and chronic illnesses and more. With 24 physicians and 28 advanced practice providers who are board-certified in internal or family medicine, PMC Primary Care is committed to providing high-quality, patient center care.
Outside of caring for patients, Hockersmith enjoys traveling, relaxing by the pool or the beach and spending time with her family, husband and their two dogs.
Kristin Hockersmith, MSN, APRN, FNP-C, is now accepting patients at PMC – Morganton Park located at 200 Pavilion Way in Southern Pines. To schedule an appointment, please call (910) 246-4140.
---
Back