August 9th, 2022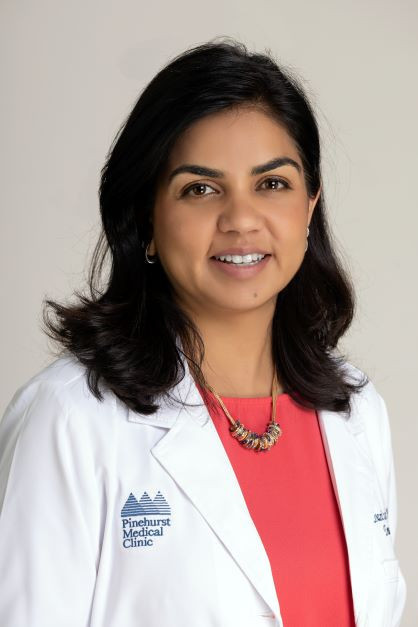 Pinehurst Medical Clinic (PMC) is excited to announce that it is expanding its dermatology department to serve the community of Lee County. The new office is located on the lower level of 1818 Doctors Drive in Sanford. This will be PMC dermatology's second location, with its other office located at PMC – Morganton Park, 200 Pavilion Way, Southern Pines.
The expansion includes welcoming board-certified dermatology physician Shivani Kaushik, MD, to the PMC dermatology team. Dr. Kaushik earned her doctorate and bachelor's degree at the University of Delhi's Maulana Azad Medical College in India and for the past two years Dr. Kaushik has been an assistant professor at Rutgers University's Robert Wood Johnson Medical School Center for Dermatology.
Growing up, Dr. Kaushik's volunteered in rural clinics taking care of underserved patients. This is where her interest in dermatology began and eventually turned into her passion. "I enjoy taking care of patients with skin problems and it is really fulfilling for me to go home after a day of helping patients in the best way I can," Dr. Kaushik expressed.
Dr. Kaushik decided to join PMC because the organization shares values she has when it comes to delivering patient care. "I chose to join PMC as it shares my vision of commitment to quality patient care, compassion for their patients and their commitment to serve the local community," said Dr. Kaushik.
Outside of providing patient care, Dr, Kaushik enjoys baking, traveling, and spending time with her family. She considers herself very fortunate to do what she loves while being a mother, wife and doctor.
Dr. Kaushik is now accepting patients at PMC dermatology's new facility located on the lower level of 1818 Doctors Drive, Sanford open Monday – Friday 8:30 a.m. – 2:30 p.m. To make an appointment, please call 919-708-1555.
---
Back