August 16th, 2022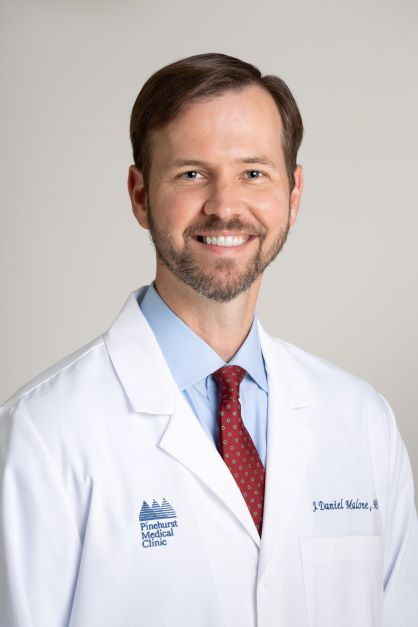 J. Daniel Malone, MD, is the newest member of Pinehurst Medical Clinic's (PMC) Primary Care team at its Heather Glen location in Pinehurst. The organization is excited to welcome Dr. Malone to further its commitment to providing high-quality, patient-centered primary care to the communities it serves.
Dr. Malone attended the University of Florida to earn his Bachelor of Science in Chemical Engineering and started his Doctor of Medicine degree at Southern Illinois University School of Medicine. He later transferred to the University of Texas Medical Branch to complete his doctorate and is board-certified by the American Board of Family Medicine.
As a former U.S. Navy submarine officer, Dr. Malone says the experiences he had have taught him the value of teamwork and service which has translated into how he practices medicine. He has a passion for developing meaningful relationships with his patients to promote a collaborative approach to their healthcare needs and chose the area of primary care specifically for the opportunity to care for his patients across their lifespans.
Pinehurst Medical Clinic's Primary Care department providers are experts in promoting healthy living, disease prevention, health maintenance, treatment of acute and chronic illnesses and more. With over 20 physicians and 22 advanced practice providers who are board-certified in internal or family medicine, Pinehurst Medical Clinic Primary Care is committed to providing high-quality, patient center care.
Dr. Malone looks forward to joining PMC to continue his care philosophy because of the organization's commitment to continuity of care for its patients and its supportive environment for its physicians and employees.
Growing up in rural Florida, Dr. Malone and his wife settled in Southern Pines last year. Together, they enjoy running, cooking, and walking their Australian Shepherd.
Dr. Malone is now accepting new patients and will be located at PMC – Heather Glen at 15 Regional Drive, Pinehurst. To schedule an appointment, please call 910.255.4400.
---
Back