September 5th, 2023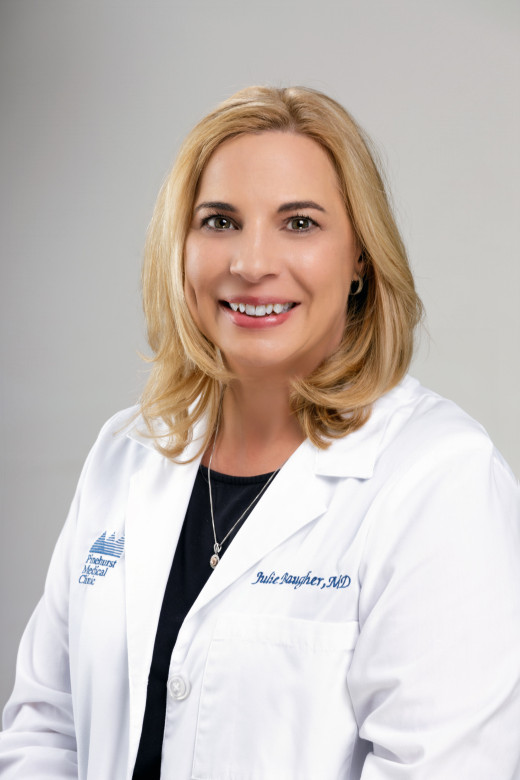 Pinehurst Medical Clinic (PMC) is excited to welcome Julie Baugher, MD, back to its established primary care department. Dr. Baugher previously served patients at PMC Primary Care – Heather Glen in Pinehurst but comes back to serve patients at PMC Primary Care – Southern Pines. She joins the team of three board-certified primary care physicians including Dr. Marcus Lowry, Dr. Bobby Maynor and Dr. Michol Stanzione, and six advanced practice providers Julie Catron, PA-C, Lauren Chriscoe, ANP, Sarah Durbin, FNP, Sherry Hall, FNP-C, Karen Patterson, DNP, and Julie Thomas, PA-C.
Dr. Baugher received her doctor of medicine from Wright State University in Dayton, Ohio, and her bachelor of science in biology from Ohio University in Athens, Ohio. Additionally, Dr. Baugher is board certified in internal medicine from the American Board of Internal Medicine and more recently became board certified in obesity medicine as well as receiving certification from the Titleist Performance Institute.
"In the past 2 years, I have had the opportunity to become Board Certified in Obesity Medicine as well as obtaining certification from the Titleist Performance Institute," stated Dr. Baugher. "Returning to PMC, I will be utilizing my existing internal medicine skills and expertise while incorporating my new certifications and training. The result is the ability to diagnose and treat chronic medical conditions while also improving patients' quality of life by emphasizing the importance of nutrition, fitness and healthy lifestyle regardless of baseline functional status."
During her over 20 years of experience in internal medicine, Dr. Baugher has developed a care philosophy that goes beyond treating patients physically. When caring for patients, she considers their entire well-being from physical to mental health. She places an increased emphasis on nutrition, fitness, and disease prevention, while also caring for the patient's emotional journey.
Dr. Baugher is joining PMC's primary care department with 24 physicians and 28 advanced practice providers who are board-certified in internal or family medicine. PMC primary care providers are experts in promoting healthy living, disease prevention, health maintenance, treatment of acute and chronic illnesses and more. As part of the PMC organization, primary care providers have access to several specialty care and wellness resources to provide the best possible care to improve their patients' overall health and well-being.
Outside of caring for patients, Dr. Baugher enjoys being active, a round of golf, reading, and spending time with her family.
Dr. Julie Baugher is now accepting new patients at PMC Primary Care – Morganton Park located at 200 Pavilion Way in Southern Pines. To schedule an appointment, please call (910) 246-4140.
---
Back