April 5th, 2022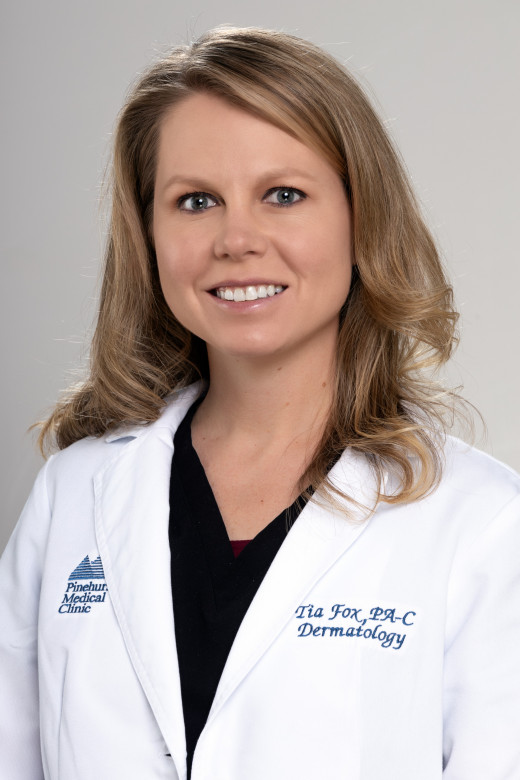 PINEHURST, N.C., April, 5, 2022 – Pinehurst Medical Clinic (PMC) is pleased to announce the addition of Tia Fox, MMSc, PA-C, to its dermatology department.
Fox decided on a career in healthcare to pursue her passion for taking care of people. She has over 14 years of experience in healthcare and attended Barry University where she obtained her Master of Physician Assistant Studies and Clinical Medical Science. She holds a Bachelor of Science – Human Services from Gardner Webb University and pursued an Associate of Science – Physical Therapist Assistant from Caldwell Community College.
PMC's mission to provide the highest quality of care to the patients and communities it serves was the reason why Fox chose PMC Dermatology. "I chose to join Pinehurst Medical Clinic Dermatology because of their commitment to quality, compassion for their patients and commitment to the local communities they have the privilege to serve," said Fox.
As a member of PMC's Dermatology team, Fox will continue the department's commitment to providing a holistic approach and expert skincare as part of a multispecialty group. With the most advanced technology and staying up-to-date with the latest practices, PMC's dermatology providers can offer the highest level of quality of care in the field.
Fox looks forward to being back in her native state after residing in Florida. In her free time, she enjoys reading, running obstacle course races with her husband, traveling to warmer climates, and being a mom of two beautiful rambunctious boys.
Tia Fox, MMSC, PA-C, is now accepting new patients at Pinehurst Medical Clinic Dermatology located at 200 Pavilion Way, Southern Pines, N.C. If you would like to schedule an appointment, please call 910.235.3330.
---
Back