July 18th, 2022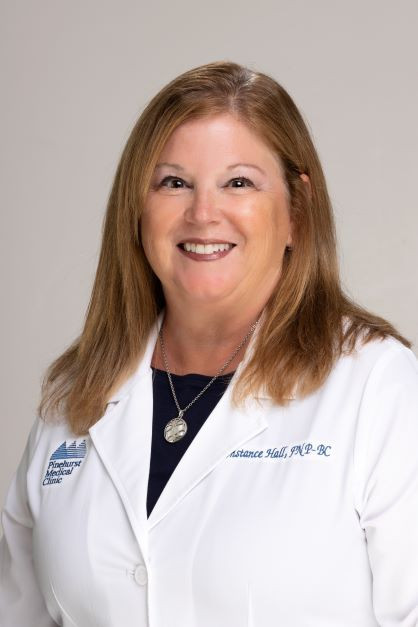 Pinehurst Medical Clinic (PMC) is excited to welcome Connie Hall, APRN, CNP, to its PMC – North location joining the team of two physicians and two advanced practice providers committed to providing compassionate, patient-centered care for the entire family.
Having earned her associate and bachelor's degrees of science in nursing from Ohio University in Athens, Ohio, and master of science in nursing from Chamberlain University in Downers Grove, Illinois, Hall has over 17 years of experience in the health care setting. She is also specialty trained in several areas of expertise including:
Therapeutic and preventative care
Evidenced-based care protocols
Patient safety and advocacy
Pain and symptom management
Patient and family education
For almost 15 of her 17 years of experience, Hall provided health care in a hospital setting but transitioned to office based primary care to further her commitment to taking care of patients and their families in a more personal environment. She looks forward to continuing this commitment with PMC because "it feels like a group that values the patient care experience," she said, "their commitment to giving quality care with compassion mirrors my own practice goals."
Having lived in six states prior to settling in North Carolina, Hall expressed that the Pinehurst community already feels like home, and she is looking forward to becoming a more integral part both personally and professionally.
Outside of the clinic Hall enjoys the outdoors, traveling, and watersports and is looking forward to trying pickleball this fall.
Pinehurst Medical Clinic's Primary Care department are experts in promoting healthy living, disease prevention, health maintenance, treatment of acute and chronic illnesses and more. With 22 physicians and 21 advanced practice providers who are board-certified in internal or family medicine, Pinehurst Medical Clinic Primary Care is committed to providing high-quality, patient center care.
Connie Hall, APRN, CNP, is now accepting new patients at PMC – North, located at 8 Regional Circle in Pinehurst. To schedule an appointment, please call (910) 215.5555.
---
Back