July 25th, 2022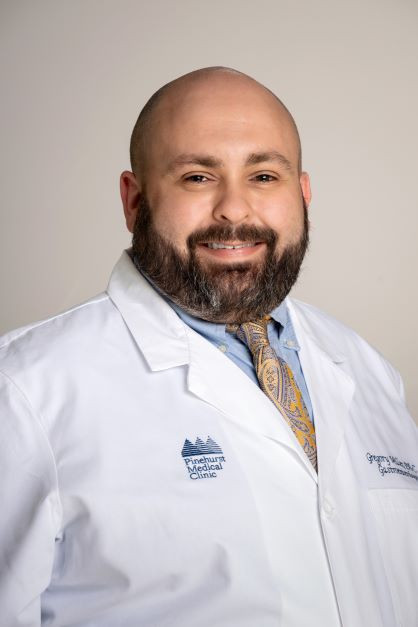 Pinehurst Medical Clinic (PMC) is excited to announce that it is expanding its gastroenterology services in Sanford with the addition of a new provider, Gregory Miller, PA-C. Miller will be located in PMC Gastroenterology – Sanford at 110 Dennis Drive.
A Sanford native, Miller began his medical career serving as a paramedic in his hometown after receiving his bachelor's degree in emergency medical care at Western Carolina University in Cullowhee, N.C. He later went on to earn his master's degree in medical sciences at Methodist University in Fayetteville, N.C., after discovering a passion for helping his community.
An important part of Miller's care philosophy is ensuring patients understand the different aspects of their health and taking a collaborative approach to finding solutions that best meet their medical needs. Being an available resource to his patients to fulfill these roles is a critical part of Miller's approach to patient care.
Miller joins PMC for its reputation as a leader in healthcare, "PMC has always been a pillar within the community whether it be here in Lee or in Moore County," expressed Miller. "I have been honored with the opportunity to join this group to provide excellent medical care."
Outside of patient care, Miller enjoys spending time outdoors, visiting the vast coastal landscape of N.C., working on projects at home and the occasional video game.
Miller joins Dr. Behnam Asgharian, Dr. Philip Brondon, Dr. Ravikant Varanasi and advanced practice provider Michael Williamson, DNP, APRN, FNP-C at PMC Gastroenterology in Sanford to further expand providing a variety of services to those seeking care for abdominal pain, anemia, liver disease, irritable bowel syndrome and more.
Gregory Miller, PA-C, is now welcoming new gastroenterology patients to PMC – Gastroenterology. To schedule an appointment, please call 919-774-4511.
---
Back