July 31st, 2021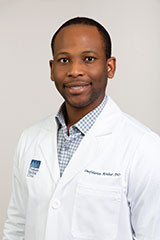 Pinehurst Medical Clinic is pleased to welcome a new Primary Care Provider, Omofolarin Arthur, DO, to the Sanford Medical location. Dr. Arthur will be accepting new patients and will be available five days a week in Lee County.
Dr. Arthur earned his Doctor of Osteopathic Medicine at Michigan State University and completed his Family Medicine Residency and Internship at Ascension Macomb-Oakland Hospital in Michigan.
"I enjoy helping patients put their wellness first by facilitating preventive measures," expressed Dr. Arthur. "I appreciate getting to know patients and learning about their lives and goals, and working together to help them achieve those goals."
Dr. Arthur is a board-certified primary care physician, and chose to join Pinehurst Medical Clinic because of the organization's commitment to delivering high-quality healthcare with compassion to their patients and their dedication to being a medical home for their patients. "Pinehurst Medical Clinic has resources readily available, and they are equipped from Primary Care to a diverse base of Specialists ready to handle the medical needs of their patients," stated Dr. Arthur.
Dr. Arthur grew up spending a few summers in Raleigh and Greensboro, where he was captivated by the similar amenities the area shared with his home state of Northern Michigan.
He has always felt a connection with the state of North Carolina and looks forward to enjoying the endless possibilities of outdoor activities when he is not caring for patients.
Dr. Omofolarin Arthur is welcoming new patients by appointment at 555 Carthage Street, Sanford.
To schedule a visit, please call (919) 774-6518.
About Pinehurst Medical Clinic
Pinehurst Medical Clinic is a recognized healthcare provider in the communities of Moore County, Lee County, Cumberland County, and the surrounding six counties. Locally owned and managed, Pinehurst Medical Clinic offers a broad range of primary and specialty care services to the communities we serve. The physicians and healthcare team of professionals at Pinehurst Medical Clinic share a commitment to patient-centered care that is physician-led and utilizes the latest advances in medical technology. This combination of leading-edge medicine and deep compassion for the people we serve has been a hallmark of the Pinehurst Medical Clinic since 1952.
Pinehurst Medical Clinic consists of over 100 providers, approximately 650 employees, and 19 locations.
---
Back