September 1st, 2021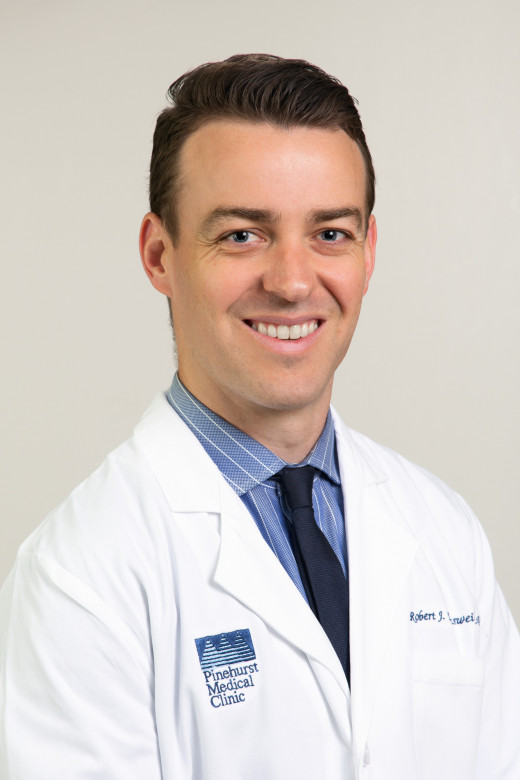 Pinehurst Medical Clinic is pleased to welcome a new Primary Care Provider, Robert Eckensweiler, M.D., to Pinehurst Medical Clinic's Primary Care of Sanford location. Dr. Eckensweiler will be accepting new patients at 1411 Greenway Court in Sanford 5 days a week.
Dr. Eckensweiler earned his Doctor of Medicine at Wayne State University and completed his family medicine residency at Amita Resurrection Medical Center in Chicago, Illinois. During his residency, he was peer-elected as the Chief Resident. Dr. Eckenweiler said, "I went into healthcare, specifically family medicine, for the continuity of care and the ability to build lasting physician-patient relationships. In addition, I enjoy preventative medicine, which includes helping my patients avoid future illnesses and to achieve the best health they can."
Dr. Eckensweiler is a board-certified family medicine physician who chose to join Pinehurst Medical Clinic because of shared values and goals of quality patient care. "I'm excited to partner with my patients to better their health and to be a part of the community", expressed Dr. Eckensweiler.
Pinehurst Medical Clinic's Primary Care team is comprised of over twenty physicians and eighteen advanced practice providers who are board-certified in Internal Medicine or Family Medicine. Specializing in the prevention, diagnosis, and treatment of all adult diseases, Pinehurst Medical Clinic's Primary Care team delivers compassionate care and serves the comprehensive needs of patients by utilizing the latest medical knowledge and technology.
Dr. Eckensweiler, his wife, Luting, and their two dogs recently moved to North Carolina. Outside of medicine, he enjoys spending time with them, as well as hiking, cycling, and soccer.
Dr. Robert Eckensweiler is welcoming new patients by appointment at PMC Primary Care of Sanford. To schedule a visit, please call (919) 292-1878.
---
Back