December 19th, 2022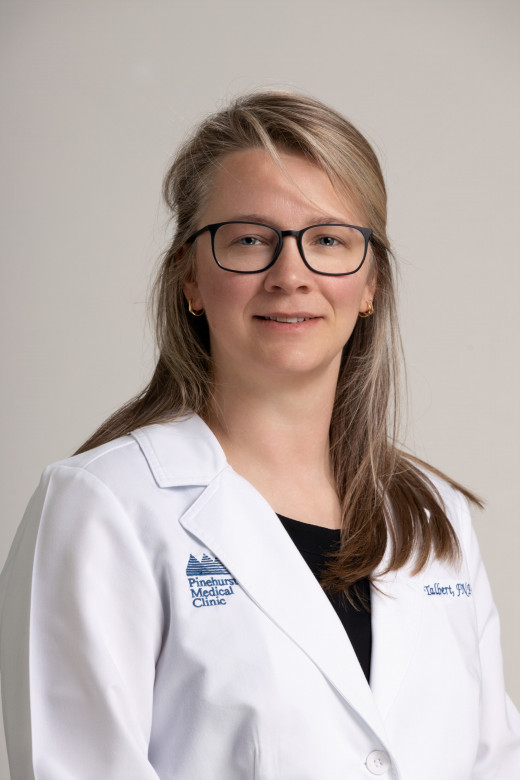 Pinehurst Medical Clinic (PMC) is excited to welcome Kathy Talbert, FNP to its primary care team at PMC – Heather Glen in Pinehurst. Talbert brings over 10 years of clinical experience joining the team consisting of seven physicians and eight advanced practice providers at this location.
A Moore County native, Talbert started her education at Sandhills Community College obtaining her Associate of Applied Science in Nursing. She then went to Appalachian State University to earn her Bachelor of Science in Nursing and her Master of Nursing with a focus as a Family Nurse Practitioner from Walsh University in Canton, OH.
With a passion for helping others, Talbert decided a career in healthcare was the best way to fulfill it. Her philosophy of care is to ensure it is centered around what is best for her patient, delivering it compassionately while offering the care and tools they need to live a high-quality life.
Talbert is a familiar face to PMC, previously working as a registered nurse. She says the organization's mission statement to provide its patients and surrounding communities the best quality of care was important when choosing to join the team.
PMC's Primary Care providers are experts in promoting healthy living, disease prevention, health maintenance, treatment of acute and chronic illnesses and more. With 23 physicians and 27 advanced practice providers providers who are board-certified in internal or family medicine, PMC Primary Care is committed to providing high-quality, patient center care.
Talbert currently resides in Carthage with her husband, son and their fur child, Ruger. She has an equal affinity for both the mountains and the coast. When not caring for patients, Talbert enjoys listening to music, solving puzzles, traveling, adventures and anything that makes her little boy laugh.
Kathy Talbert, FNP, is now accepting new patients at PMC Primary Care – Heather Glen. To schedule an appointment, call 910.255.4400.
---
Back