August 8th, 2023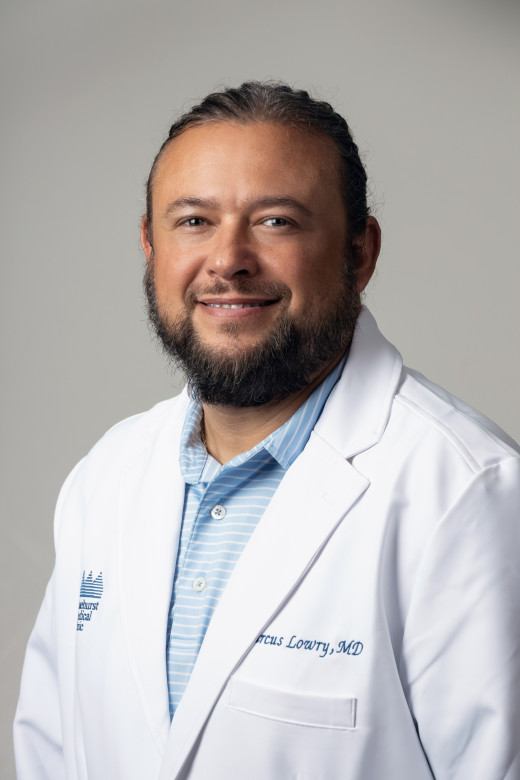 Marcus Lowry, MD, is the newest addition to Pinehurst Medical Clinic (PMC) Primary Care – Southern Pines. Dr. Lowry joins the established team of board-certified primary care physicians Dr. Bobby Maynor and Dr. Michol Stanzione, and six advanced practice providers Julie Catron, PA-C, Lauren Chriscoe, ANP, Sarah Durbin, FNP, Sherry Hall, FNP-C, Karen Patterson, DNP, and Julie Thomas, PA-C.
Dr. Lowry earned his bachelor of science in biology from Emory University in Atlanta and his doctor of medicine from the University of North Carolina Medical School in Chapel Hill, N.C.
Sharing a love for animals alongside his mother, Dr. Lowry originally pursued a bachelor of science in biology to care for animals. It was after a personal experience with his grandmother that led to a career in medicine. "My grandmother passed away from metastatic uterine cancer," stated Dr. Lowry. "This initiated my desire to pursue a career in medicine to try and help people avoid or treat chronic medical conditions, and the emphasis of adopting healthy lifestyles to try and prevent cancer."
For over 20 years, Dr. Lowry has cared for patient's primary care needs. During this time, he has developed a patient-centered care philosophy that focuses on active listening, education and disease prevention. He actively looks for and offers the best options, solutions and resources that align with his patients' concerns to help them achieve their best level of health possible.
Dr. Lowry is joining PMC's primary care department with 23 physicians and 28 advanced practice providers who are board-certified in internal or family medicine. PMC primary care providers are experts in promoting healthy living, disease prevention, health maintenance, treatment of acute and chronic illnesses and more. As part of the PMC organization, primary care providers have access to several specialty care and wellness resources to provide the best possible care to improve their patients' overall health and well-being.
Dr. Marcus Lowry is now accepting new patients at PMC Primary Care – Morganton Park located at 200 Pavilion Way in Southern Pines. To schedule an appointment, please call (910) 246-4140.
---
Back