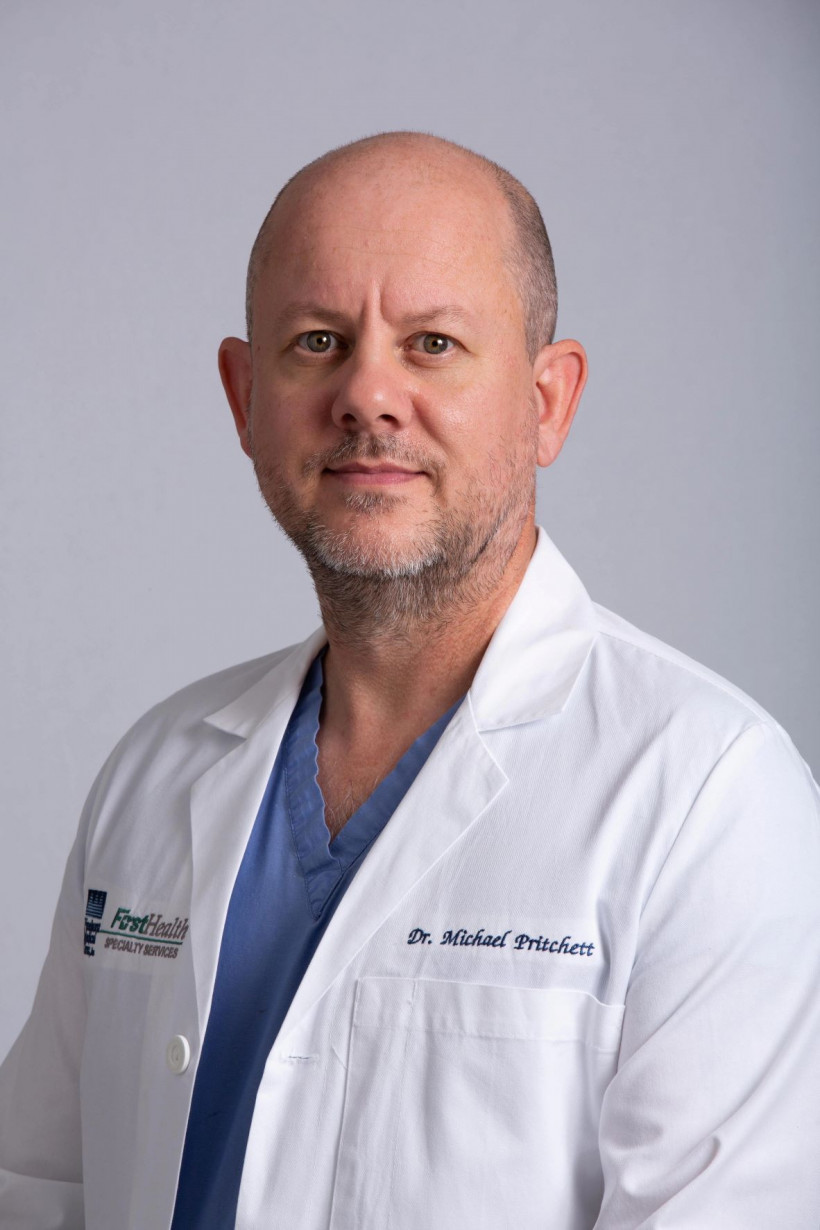 Pulmonology Specialist
Sleep Medicine Specialist
Phone: 910.295.9359
Fax: 910.235.3401
Biography
Dr. Michael Pritchett is an advanced bronchoscopist who is board certified in pulmonary disease and critical care medicine. He received his undergraduate degree from the University of Florida. He then attended medical school at Nova Southeastern University where he simultaneously received his medical degree and a master's degree in public health. He completed his residency in Internal Medicine at Mt. Sinai Medical Center in Miami Beach, FL, and then his fellowship in Pulmonary & Critical Care Medicine at St. Elizabeth's Medical Center, Tufts University School of Medicine in Boston, MA.
Since completing fellowship, he has been in private practice with the Pinehurst Medical Clinic in Pinehurst, NC for over 10 years. He holds privileges at FirstHealth of the Carolinas, a 4-hospital system in central North Carolina. He serves as the Director of Thoracic Oncology and also the Director of the Chest Center of the Carolinas, a multidisciplinary thoracic oncology clinic. He has previously served as the Medical Director of Critical Care at FirstHealth Moore Regional Hospital (40-ICU beds). He is active in multiple clinical trials as a principal investigator in advanced bronchoscopy, thoracic oncology, molecular pathology, COPD, asthma, and pulmonary arterial hypertension. He has been an author/co-author of multiple studies in these areas.
Dr. Pritchett has most recently published his pioneering work on the use of intraoperative cone-beam CT (CBCT) to assist with the biopsy of peripheral nodules. This technique has been shown to significantly increase the diagnostic yield of guided bronchoscopy for small peripheral nodules. This innovative work with CBCT has led directly to being able to perform first-in-human trials with an FDA-approved device for bronchoscopic microwave ablation of peripheral lung tumors. Dr. Pritchett has also been the first in the U.S. to perform robotic-assisted navigation bronchoscopy with the Intuitive Ion endoluminal robotic platform.

---
Education

Nova Southeastern University, Ft. Lauderdale, FL
-Doctor of Osteopathy
St. Elizabeth's Medical Center, Tufts University School of Medicine, Boston, MA
-Pulmonary Disease and Critical Care Medicine Fellowship
Mount Sinai Medical Center, Miami Beach, FL
-Internal Medicine Residency
Nova Southeastern University, Ft. Lauderdale, FL
-Master in Public Health
University of Florida, Gainesville, FL
-Bachelor of Science in Microbiology and Cell Science
---
Research / Recognition
Publications
Research
Principal Investigator: Targeted Lung Denervation for Patients with Moderate to Severe COPD (AIRFLOW study) 2020
Principal Investigator: A Prospective Evaluation of the Clinical Utility for the Ion Endoluminal System (PRECIsE study): A multicenter, prospective trial of a novel robotic bronchoscopy platform. 2019
Global Study Principal Investigator: BDX-CD-002 (ORACLE): An Observational Registry Study to Evaluate the Performance of the BDX-XL2 Test
Principal Investigator: Multicenter Study of the NeuWave Flexible Ablation Probe in Lung Cancer for Medically Inoperable Patients or Those Who Elect Not to Have Surgery – 2018
Principal Investigator: A Patient Registry of the Real-world Use of Orenitram for Pulmonary Arterial Hypertension (ADAPT Study), 2018
Principal Investigator: A post-market feasibility study evaluating location accuracy using the superDimension Navigation System V7.2 with Fluoroscopic Navigation Technology in subjects undergoing lung lesion biopsy 2018
Principal Investigator: Prospective Observational Multicenter Study to Evaluate the Performance of Inivata Liquid Biopsy Analysis Compared with Standard Tissue Biopsy Analysis for Detection of Genomic Alterations in Patients with Advanced Non-Small Cell Lung Cancer. 2017
Principal Investigator: A Multicenter, Randomized, Double-Blinded, Placebo-Controlled Trial to Evaluate the Safety and Efficacy of Inhaled Treprostinil in Subjects with Pulmonary Hypertension due to Parenchymal Lung Disease. INCREASE Study. 2017
Principal Investigator: A Multicenter, Randomized, Double-Blinded, Placebo-Controlled Study to Evaluate the Safety and Efficacy of Oral Treprostinil in Subjects with Pulmonary Hypertension (PH) in Heart Failure with Preserved Ejection Fraction (HFpEF). SOUTHPAW Study. 2017
Principal Investigator: BioSpecimen Collection for Use in the Development and Validation of PD-L1 Biomarker Tests and Technologies. Biodesix, Inc. 2017.
Principal Investigator: Bronchoscopic Lung Biopsy Enhancement with LungVision Device. 2017
Principal Investigator: PAION: Efficacy and Safety of Remimazolam in ASA III/IV Patients Undergoing Endoscopy. 2016
Principal Investigator: NAVIGATE Trial: Clinical Evaluation of superDimension System for Electromagnetic Navigation Bronchoscopy. 2016
Principal Investigator: ASCENT Trial: Double-blind, Randomized, Placebo-controlled, Parallel-group, Phase IV Study to Evaluate the Effect of Aclidinium Bromide on Long-term Cardiovascular Safety and COPD Exacerbations in Patients with Moderate to Severe COPD. 2015
Principal Investigator: Phase III study to demonstrate the safety and efficacy of AeriSeal System treatment plus optimal medical therapy compared in patients with advanced upper lobe predominant (ULP) heterogeneous emphysema. 2015
Principal Investigator: Post-marketing observational study to assess respiratory tract adverse events in pulmonary arterial hypertension patients being treated with inhaled prostacyclin therapy (Tyvaso). 2014
---