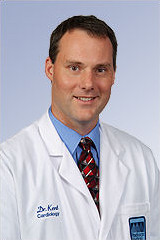 Cardiology Specialist
Phone: 910.295.9211
Fax: 910.235.3428
Biography
Steven Kent, MD, is a cardiology physician at Pinehurst Medical Clinic. Dr. Kent serves patients at PMC - East in Pinehurst.
Dr. Kent earned his doctorate from Duke University in Durham, NC. He also completed a cardiovascular fellowship at Walter Reed Army Medical Center in Washington, DC.
Pinehurst Medical Clinic cardiology providers, alongside FirstHealth, offer a broad range of comprehensive cardiology services including the treatment of atrial fibrillation, heart catheter placements, and echocardiograms.
---
Education
Duke University School of Medicine, Durham, NC
–Doctor of Medicine
Walter Reed Army Medical Center, Washington, DC
–Cardiovascular Fellowship
Walter Reed Army Medical Center, Washington, DC
–Internal Medicine Residency
Bethesda Naval Hospital, Bethesda, MD
–Nuclear Medicine & Radioisotope Techniques
---