June 20th, 2022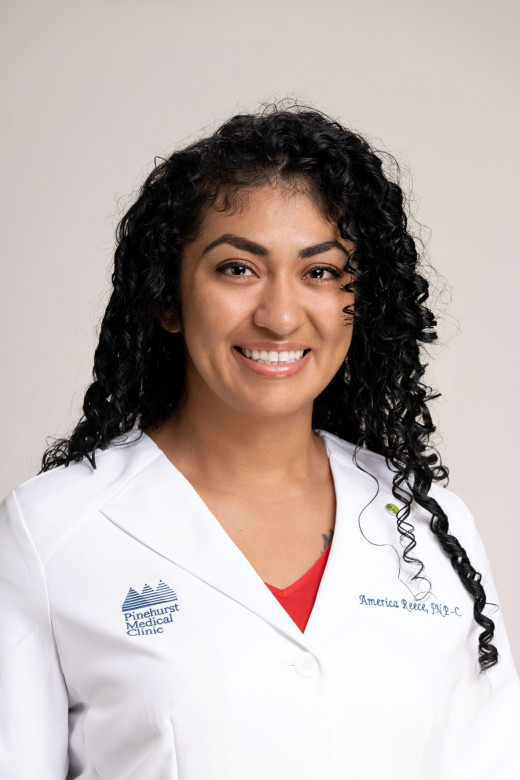 America Reece, MSN, FNP-C, is the newest addition to Pinehurst Medical Clinic's (PMC) Walk-In Clinic team at PMC – Morganton Park. PMC is excited to welcome Reece to its Morganton Park building located at 200 Pavilion Way, Southern Pines, to further its accessibility to its patients needing convenient, same-day care.
Reece has six years of experience working in the medical field and obtained her Master of Science in Nursing with a specialty as a Family Nurse Practitioner at Chamberlain University and a Bachelor of Science in Nursing from the University of West Florida. Previously working in the emergency department and medical-surgical unit have allowed her to prepare for her new role in PMC's Walk-In Clinic.
The reason Reece went into the medical field is a personal one. Shortly after her son was born, he suffered from seizures from low calcium due to an underdeveloped parathyroid gland. After seeing first-hand the dedication his healthcare team gave to helping him, Reece decided she too wanted to have an active role in helping others going through similar experiences.
Deciding to provide high-quality, compassionate, patient-centered care was an easy decision for Reece, especially at PMC, "During my experiences with PMC, I observed the bond both providers and patients have developed with each other," Reece said. "As a leading health care system providing exceptional and life-saving services, PMC has been a privilege to join."
Outside of caring for patients, Reece resides in Moore County alongside her husband and three children, along with her self described zoo of three dogs, two cats, 10 chickens, two ducks, two horses, a Burmese python and honeybees. She enjoys exercising, outdoor activities such as hiking, rock climbing, and traveling with her family.
PMC's Walk-In Clinic at PMC – Morganton Park is open Monday – Friday, 9 a.m. to 5 p.m., and Saturday and Sunday, 8 a.m. – 11:30 a.m. To learn more, please visit pinehurstmedical.com.
---
Back