November 7th, 2022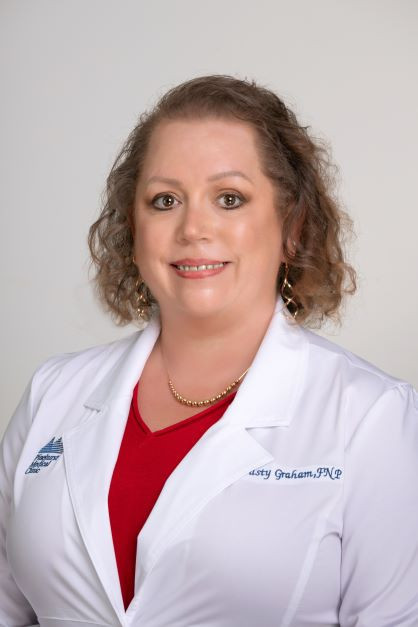 PINEHURST, N.C., November 7, 2022 – Pinehurst Medical Clinic (PMC) is expanding its primary care services with the addition of board-certified primary care provider Dusty Graham, MSN, FNP-C. Graham joins the team consisting of Dr. Michael Brackman and Krista Montes, PA-C located at PMC – West.
Graham holds a Master of Science in nursing from the University of North Carolina Wilmington, a Bachelor of Science in nursing from Winston-Salem State University and an Associate of Science in nursing from the College of the Albermarle Elizabeth City. She is also a member of several professional organizations including The American Association of Critical-Care Nurses, The American Association of Nurse Practitioners and The Pain Society of The Carolinas.
With over 15 years of clinical experience, Graham says it was an easy decision choosing to continue her professional career with PMC stating, "PMC is a natural choice for me, as that is who I chose to assist me with my own health care." Graham continued, "I believe in their commitment to providing high-quality, patient-centered care."
As a North Carolina native growing up in Raeford, Graham is grateful for the opportunity to serve her community. She has a passion for taking care of people and promotes a collaborative environment when caring for patients to help them achieve their best possible health and wellness.
PMC's Primary Care department providers are experts in promoting healthy living, disease prevention, health maintenance, treatment of acute and chronic illnesses and more. With over 20 physicians and 22 advanced practice providers who are board-certified in internal or family medicine, PMC Primary Care is committed to providing high-quality, patient center care.
Graham resides in Seven Lakes with her husband, Ansol and their five children. Outside of caring for patients, she enjoys spending time with her family, traveling, painting and drawing.
Dusty Graham, MSN, FNP-C, will be serving patients at PMC – West located at 4208 Murdocksville Road, West End.
---
Back