October 3rd, 2023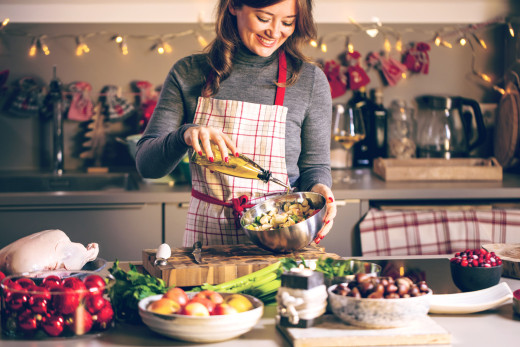 By: Madison Cobb, DNP, FNP-C, endocrinology nurse practitioner
As we enter the holiday season, we celebrate a time of tradition. Many of which may revolve around food. Some may celebrate with pumpkin pie, and others spend time making cookies with Santa. Whatever the tradition may be, there is a common conception that holidays can change normal eating habits.
Those diagnosed with diabetes, both Type 1 and Type 2, should be especially mindful of what they eat around this time of year. This is because their bodies process insulin improperly.
People diagnosed with Type 1 diabetes have a pancreas that doesn't produce insulin, causing blood sugar levels to rise.
If someone has Type 2 diabetes, they are insulin resistant, meaning when their blood sugar rises the body creates a lot of insulin; however, it is not as effective as it should be to lower blood sugar levels. Over time, this can result in inadequate insulin secretion from the pancreas.
During the holidays, people with either Type 1 or Type 2 diabetes should be conscientious of their eating habits to manage their blood sugar levels. Here are a few tips to help do so:
Tip #1: Have a plan going into the holidays so you feel prepared.
Tip #2: Try to stick to a regular eating schedule on the holidays similar to how you would on a normal day to keep your blood sugar levels stable.
Tip #3: Try to eat slower and be strategic on how you eat. Start with proteins and vegetables on your plate so that by the time you get to the carbohydrates you will begin to feel fuller and therefore consume less.
Tip #4: Avoid skipping meals to "save up" for later. This may cause you to overeat which can make the blood sugar levels more difficult to control later.
Tip #5: Watch your carbohydrate intake. Try to include more vegetables on your plate. If you know you will want a sweet treat following the meal, limit your carbohydrates, like bread or potatoes, during the meal.
Tip #6: Forgive yourself for mistakes. It is important that you get back on track as quickly as possible when slip-ups happen. This can only be accomplished if you do not judge yourself harshly when mistakes occur.
If someone with Type 1 or Type 2 diabetes chooses to forgo their routine during the holidays, the consequences could be life-threatening. When a diabetic has unbalanced insulin levels, it can lead to profound hyperglycemia. Symptoms of this can include tiredness, blurred vision, increased thirst, dry mouth, and frequent urination.
Hyperglycemia can lead to other serious complications such as diabetic ketoacidosis or DKA. DKA happens when the body does not have enough insulin to allow the blood sugar to enter the cells of your body which is required for the most basic functions of your organs. This is considered a medical emergency.
Before entering the holiday season, people with diabetes should talk with their healthcare provider to answer any questions they may have about taking part in their favorite holiday eating traditions and curate a plan to ensure they do so safely.
Madison Cobb, DNP, FNP-C, is an endocrinology nurse practitioner at Pinehurst Medical Clinic Endocrinology – Sanford & Fayetteville.
---
Back