October 2nd, 2023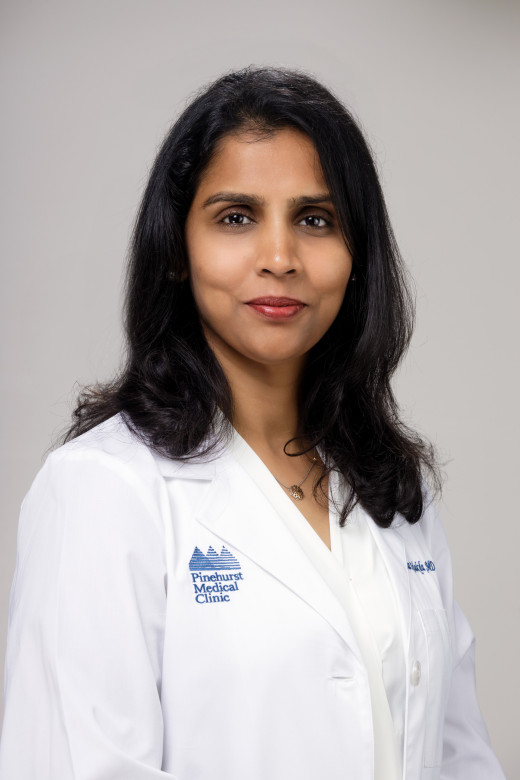 Pinehurst Medical Clinic (PMC) is excited to announce the addition of board-certified internal medicine physician Nirisha Kalakada MD, DABOM, to the primary care team at PMC – Greenway Court in Sanford. Dr. Kalakada joins board-certified family medicine physicians Dr. Murali Pisharody and Dr. Omofolarin Arthur, and advanced practice provider Beth Stanfield, FNP-BC at this location.
Dr. Kalakada earned her doctor of medicine from Sri Venkateswara Medical College in Tirupati, India, and completed an internal medicine residency at Bronx Lebanon Hospital Center/ Albert Einstein School of Medicine in Bronx, NY. Additionally, Dr. Kalakada is board certified in Obesity Medicine by the American Board of Obesity Medicine.
From a young age, Dr. Kalakada has had a passion for helping others and she knew that a healthcare career was one way to make a large impact on this passion. "I have realized that the healthcare field provides me with a unique opportunity to profoundly help a person in a situation where they need help the most," expressed Dr. Kalakada. "There is nothing more rewarding than being able to provide help, serve and be an advocate for my patient's well-being."
Throughout her over 10 years of being an internal medicine physician, Dr. Kalakada has a care philosophy that is centered around being comprehensive and holistic. "My goal is to support my patients throughout their journey, from the very first conversation about education of the disease process, challenges during the journey, different treatment options and long-term follow-up," said. Dr. Kalakada.
Dr. Kalakada is joining PMC's primary care department with 24 physicians and 28 advanced practice providers Who are board-certified in internal or family medicine. PMC primary care providers are experts in promoting healthy living, disease prevention, health maintenance, treatment of acute and chronic illnesses and more. As part of the PMC organization, primary care providers have access to several specialty care and wellness resources to provide the best possible care to improve their patients' overall health and well-being.
As a new resident of Apex, Dr. Kalakada enjoys exploring in her spare time and spending time with her husband and their children.
Nirisha Kalakada MD, DABOM, is now accepting new patients at PMC – Greenway Court. To schedule an appointment, please call (919) 292-1878.
---
Back