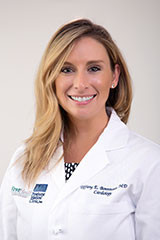 Cardiology Specialist
Phone: 910.295.9211
Fax: 910.235.3428
Biography
Tiffany Bonnecaze, MD, FACC, FSCAI is an interventional cardiologist at FirstHealth Cardiology - Pinehurst Medical Clinic.
Dr. Bonnecaze earned her Doctor of Medicine from Loma Linda University School of Medicine in 2014 and a Bachelor of Science in Chemistry from Southern Adventist University in 2010. Most recently, Dr. Bonnecaze completed an interventional cardiology fellowship at Wake Forest Baptist Medical Center
As an interventional cardiologist, Dr. Bonnecaze focuses primarily on coronary and structural heart diseases and has a specific interest in complex coronary disease and interventions. Dr. Bonnecaze is also one of two physicians in Moore County providing patent foramen ovale closures.
Outside of work, Bonnecaze said she enjoys spending time with her husband, Alex, an endocrinology physician at Pinehurst Medical Clinic, and the couple's two huskies. She also enjoys cooking, traveling, and spending time with friends.
---
Education
Loma Linda University School of Medicine, Loma Linda, CA
-Doctor of Medicine
Wake Forest Baptist Medical Center
-Cardiology Fellowship
Wake Forest Baptist Medical Center
-Interventional Cardiology Fellowship
Wake Forest Baptist Medical Center
-Internal Medicine Residency
Southern Adventist University, Collegedale, TN
-Bachelor of Science in Chemistry, Emphasis in Biochemistry
---
---
Related Media